Online Order Processing & Dispatch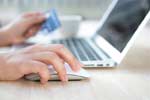 At Pio, we bridge Internet Technology with our clients to ensure that our client's orders are processed and dispatched on time. For this we have a system in place wherein we give access to our clients through our website.
This online Order Processing and Dispatching System allows clients to place orders for which quotations have been submitted earlier and for which the rates have been finalized in advance. Each client gets a unique login ID and in case the client has multiple branches each branch would also be given an unique ID. Branches can also place orders through our system but only on approval from the Head Office or the concerned departments, would that be treated as an Order. This order would be processed by us and the materials would be shipped by us to each location based on the orders.
How the system works
Branch offices can place an order for the required stationery by logging in using their unique ID
An email is generated to the authoriser to confirm the order
After authorisation the order is forwarded to us online
Order is processed and dispatched by us directly to the ordering branch
Order status is updated to the authoriser and the branch
Inventory of supplied items is automatically updated online
Advantages of this system
Based on your consumption pattern we maintain stock so that delivery is made instantly
Reports on consumption of Stationery, Branch wise, Product wise & Date wise, are available to you to view online
No minimum order quantity requirement constraint
Reduces time in processing orders
Get online status of Pending orders and processed orders
Do send us a mail if you are interested in knowing more about this inventory system
In a nutshell we can work in tandem with you as an outsourced printing house and delivery point to all your branches for all your Folders & Stationery needs.